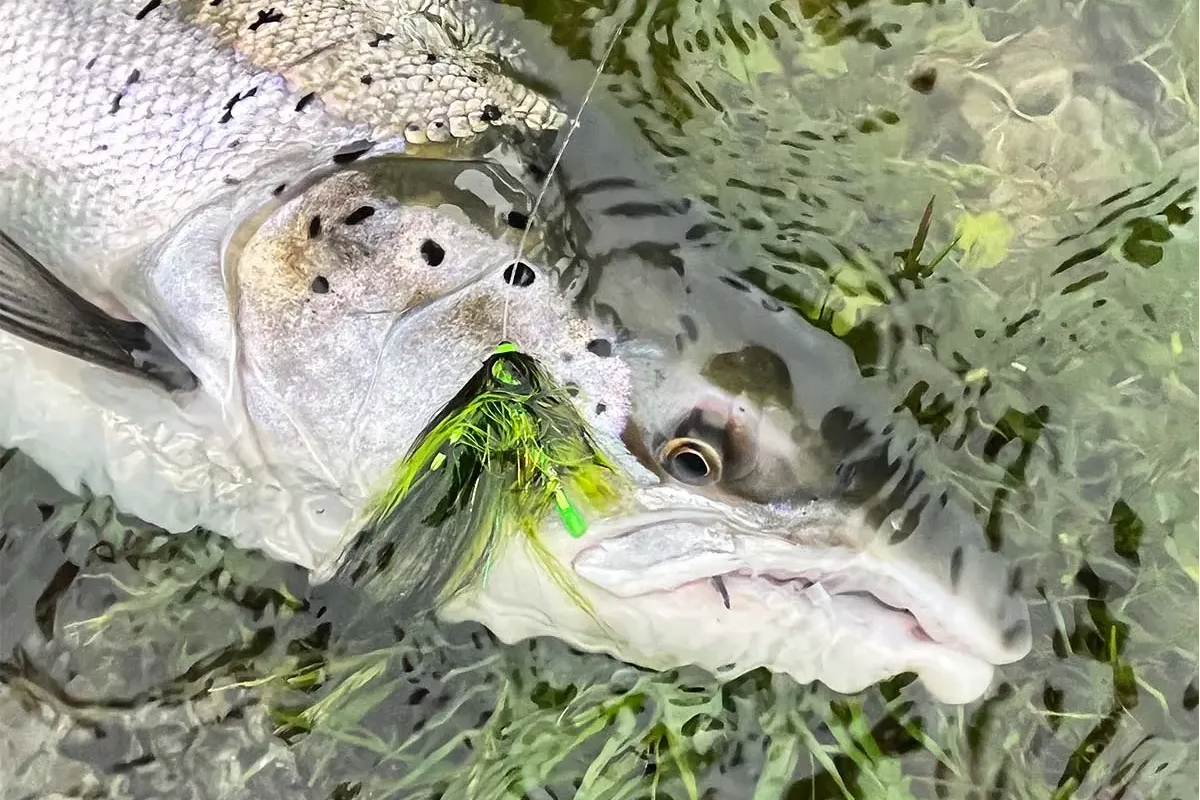 Black Green Helmet TTT Nobody
The fly rod is a highly technical instrument that has to be developed with utter precision to perform with excellence. SALAR S3 are deep-action, hard-kicking rods that create loops carrying your fly the distance, precisely to where you want it. A natural extension of your body, not only to feel the fly swim but to enhance the sensation of that big fish aggressively grabbing your fly and turning downstream. The short cigar-shaped handle and the classic red butt are designed for optimal ergonomic position to transform the movement into the maximum amount of power without wearing you out. With a tremendous kick and unmatched sensibility – SALAR S3 Rods are tools of power, tools of joy! Made of the latest Japanese and Korean materials in what many recons the best rod factory in the world.
Explore the full collection
"The SALAR 14' performed perfectly and drew positive comments from the guides on the Kispiox River in Northern British Columbia. This was my first time back on the river after fighting cancer for the last two years… so I'm a happy angler!"—Irwin, British Columbia
"As salmon angler and guide on the Alta I have seen and tried all reels there is. The SALAR Reel has become my favourite. I have worked it hard during two seasons now and the classic looking reel is tough and reliable – my first choice when it comes to hard fights and the biggest fish."—John Vegard, Alta
"The SALAR 15' casts a longer line than I ever dreamed of. It loads when putting preassure on and kicks like a horse. At the same time it bends down in the handle giving great feel and full control."—Peter, Mörrum
"For me the rod is not only for presenting a fly in the right way, but it should also be a tool that gives you the right feeling when fishing. The SALAR S3 Rods meet all these requirements. They are a pure joy to fish!"—Marcus, Sundsvall
"You all know how windy Tierra Del Fuego can be – it's extreme! The light SALAR S3 handled it perfectly, creating narrow loops cutting the wind presenting the fly to the big searuns nicely. And the new reels – well they are gems to treasure. I can only say very well done!"—Lasse, Tierra del Fuego
"SALAR 12'6 with a 33 g Nextcast 12 or 15 ft. tip was a very good combo flying long long way when fishing BC's Copper River for Steelhead. It was easy to cast, handling even heavier lines and big bulky flies. I enjoyed it very much – thanks guys!"—Thomas, British Columbia
A classic salmon reel is something to treasure and to share memories with through generations. The SALAR 'Burgundy' Reels are our second series where classic traditions meet innovative engineering. Every millimeter is considered: from the sealed disc drag system, salt water resistant aluminum and drop-formed braking adjustment to the classy burgundy side plates, polished oval rims, ivory replica S-handle and brass details – all make a reel that withstands the forces of nature and ages with beauty. Thousands of fish have already been caught with these reliable "workhorses", even great salmon up to 50+ lbs.
"The SALAR 14' performed perfectly and drew positive comments from the guides on the Kispiox River in Northern British Columbia. This was my first time back on the river after fighting cancer for the last two years… so I'm a happy angler!"
–Irwin, British Columbia
"As salmon angler and guide on the Alta I have seen and tried all reels there is. The SALAR Reel has become my favourite. I have worked it hard during two seasons now and the classic looking reel is tough and reliable – my first choice when it comes to hard fights and the biggest fish."
–John Vegard, Alta
"The SALAR 15' casts a longer line than I ever dreamed of. It loads when putting preassure on and kicks like a horse. At the same time it bends down in the handle giving great feel and full control."
–Peter, Mörrum
"For me the rod is not only for presenting a fly in the right way, but it should also be a tool that gives you the right feeling when fishing. The SALAR S3 Rods meet all these requirements. They are a pure joy to fish!"
–Marcus, Sundsvall
"You all know how windy Tierra Del Fuego can be – it's extreme! The light SALAR S3 handled it perfectly, creating narrow loops cutting the wind presenting the fly to the big searuns nicely. And the new reels – well they are gems to treasure. I can only say very well done!"
–Lasse, Tierra del Fuego
"SALAR 12'6 with a 33 g Nextcast 12 or 15 ft. tip was a very good combo flying long long way when fishing BC's Copper River for Steelhead. It was easy to cast, handling even heavier lines and big bulky flies. I enjoyed it very much – thanks guys!"
–Thomas, British Columbia